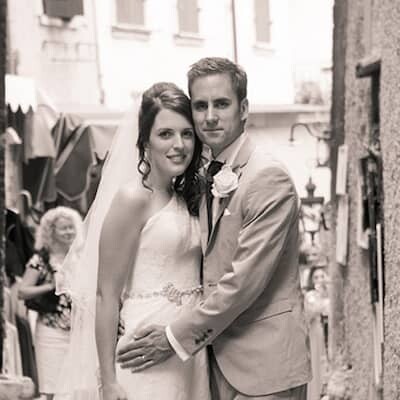 Faye & Jason
Isabella worked so hard both before and during our wedding day to make sure that everything was perfect. She took away all of the stress and ensured everyone knew where to be at the right time. She made us feel special and tailored the day so it was personal to us.
We are so grateful for all of the precious memories we have of our fantastic wedding in Lake Garda.
Stuart & Sarah
In 2013, we booked our wedding day in Malcecines with Isabella and her team. We are so glad that we used them. They were very professional throughout the whole process. We had not visited the castle before as we live in the UK. But Isabella put our minds at piece helping with all the fine details over phone and email.
The day went perfectly without any problems, which is a testament to isabella who was always one step ahead.
She made us feel very comfortable on our big day, we cannot thank them enough and we would highly recommend them.
Pam & Julian
Isabella took care of everything for us, and reminded us along the way by email, text, phone and Facebook when we needed to have things organised (like the paperwork!).
I felt instantly confident that Isabella would listen to all of our requirements, and let us shape the relaxed wedding we wanted.
When we arrived in Malcesine just before the wedding, everything ran just as smoothly. Isabella have us an itinerary so that we knew what we were doing and when our appointments were. The wedding day itself was fantastic, and our 85 guests were blown away by the location, the atmosphere and how relaxed my husband and I were.
Danielle & Kevin
We have just returned from what can only be described as our dream wedding. Not only a wedding though, Malcesine was our destination for 7 nights, and we truly can't wait to come back. We owe this huge debt of gratitude to the lovely Isabella and her team.
Isabella facilitated not only the most meticulously organised wedding day imaginable, but also helped in booking hotels, and activities for all 80 of our guests.
Having now had our wedding, and knowing how every little detail is covered, there is no way I would have been able to do it on my own, even if I was fluent in Italian. Malcesine is a gem of a town, that will leave an everlasting impression on us and all of our guests.